Changing Lives Since 1969

We're here to help you "change the lemon of your life into lemonade!"
For more information: (313) 894-8276
or (313) 894-8444 ext 2207
SHAR's service delivery continuum ranges from:
ambulatory detoxification/Withdrawal Management
residential substance abuse
intensive and traditional outpatient programs
transitional housing
recovery support
prevention services
specialty programs for men and women
employed persons
individuals under correctional supervision (i.e. parole or probation)
individuals with co-occurring disorders
Medication Assisted Treatment (MAT) Services
SHAR is continuously evolving and developing innovative ways of positively impacting our community. Especially in recognition of the opioid overdose epidemic, SHAR is proud of MAT services and the positive response with the men and women that we have served.
— SUB-ACUTE DETOXIFICATION —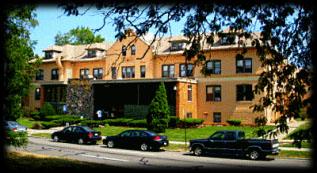 Sub-Acute Detoxification/Withdrawal Management services are available at SHAR Main. Average length of stay is 3-5 days. Clients receive evidence-based, medically supervised withdrawal management treatment. Services include medication assisted detox for opiate and alcohol withdrawal. Opiate and alcohol dependent clients may remain at SHAR for participation in our MAT protocol to decrease cravings, and increase their likelihood for long term recovery.
Residential treatment is aimed at eliminating substance abuse behaviors and gaining the abilities to live a clean and sober life. Insight into the addiction and relapse process and developing a personalized plan to identify triggers, attitudes and engage in a lifestyle change is essential.
With durations up to 120 days, SHAR's residential programs are also designed for individuals with co-occurring disorders (COD) who need stabilization as well as individuals with co-existing legal problems / criminal thinking issues. Eliminating substance abuse and increasing an individual's pro-social behaviors happens in the structured, therapeutic environments of both SHAR Main and SHAR Macomb where our residential programs are housed.
— LADIES SPECIALITY UNIT (L.S.U. 1 & 2) —
In response to the gender-specific needs of women in our community, we have opened a small, intimate 15-bed Ladies Specialty Unit (LSU) at both of our 2 primary treatment facilities. Whether at SHAR Macomb (LSU-1) or at SHAR Main in Detroit (LSU-2), the residential units address the substance use and co-occurring disorders of the ladies, and the various other issues that may concern them. Based on medical necessity criteria, the length of stay may extend up to 3 months average. This women specific, residential stay provides the ladies a needed opportunity to re-focus their lives, take advantage of medication assisted treatment, and tend to medical, parenting, legal, vocational and other issues.
Community-based group and individual sessions are available at SHAR Main and Macomb. Both facilities also offer gender-specific services for both men and women.
— RECOVERY / TRANSITIONAL HOUSING —
For individuals who are homeless or without a safe, supportive, recovery environment, SHAR offers recovery housing and transitional living at SHAR Macomb, SHAR Main, and at our 30 bed recovery house, Maybury Grand.
— RECOVERY SUPPORT SERVICES —
SHAR has shown an effective way of remaining on the road to recovery is to be guided and to receive the added assistance of a recovery coach, and/or a Peer. These trained, certified individuals provide valuable guidance and assistance, helping clients get housing, employment, and to locate many other needed resources.
— CASE MANAGEMENT SERVICES —
SHAR employs dedicated Case Managers to assist in linking persons to the many services they may need (mental health, primary health care, transportation, housing, etc.). Case Managers serve as an advocate for persons served and are key in developing the person centered plan.
— ECHO/ EMPLOYMENT RESOURCE CENTER —
Since 2011, SHAR's ECHO program has served challenged individuals, assisting them in becoming more self sufficient, and primarily addressing their occupational/vocational needs. Whether in treatment or from the community, ECHO works with persons where they are, helping them to get the needed resources. ECHO helps individuals find jobs so they can take care of their families and restore their lives. (www. echodetroit.org)
As a major part of SHAR's expansion and evolution, SHAR Academy will serve as a Community Center, addressing many of the social, educational and other related needs of the challenged people in our surrounding community. This "Recovery Mall" will emerge as a service center, a "1-Stop-Shop" where an individual may obtain a wide variety of needed "wrap-around" services, designed to enhance their over-all well being.
SHAR Academy is a former Detroit Public School building located across the Boulevard from SHAR's main headquarters, and will allow us to more effectively fulfill our mission, purpose, and the needs of the community.